News
TecStyle Visions Stuttgart  30.3. - 1.4.2023 
SHEVIMPEX and Lancer Group International invite you to the leading European trade fair TecStyle Visions, which takes place in Stuttgart, Germany.
We will be happy to welcome you and meet you in person 
                                                                      Stand No.E41 – HALL5
You can order free tickets on link as below  
TecStyle Visions - Tickets & opening times | Messe Stuttgart (messe-stuttgart.de)
Ticket code required for the free order will be sent you from us upon request.
We are looking forward to meeting you in Stuttgart.
SHEVIMPEX Team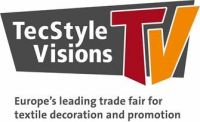 Dear Screenprinting colleagues,
After a long hiatus due to Covid 19, we are pleased to inform you that we are again organizing a Screenprinting WORKSHOP in the premises of the SHEVIMPEX company on 24.-25. March 2023.
This will be a wonderful opportunity to learn some new techniques on the topic
Transfer printing and 3D Effects printing
meet old friends and find new ones.
There will be lectures from Lancer Group International, Tullis Russel, Saati, Prodecran, Aeroterm and Hebbecker. 
 We are looking forward to meeting you in Košice, Slovakia.
 Team Shevimpex
 
 

 FESPA Munich  14. – 17. 5. 2019
The international exposition FESPA Global Print Expo 2019  will take place in Munich, Germany on 14.-17. 5. 2019.
We would like to invite all our partners to visit the stand of LANCER GROUP INTERNATIONAL
Hall A6, Stand A59
The company LANCER GROUP INTERNATIONAL will present new products
Pearlescent Silicone inks
High Density Silicone Heat Transfer inks
Water-based Reflective Heat Transfer inks
and more.
We are looking forward to meet you in Munich.
Shevimpex Team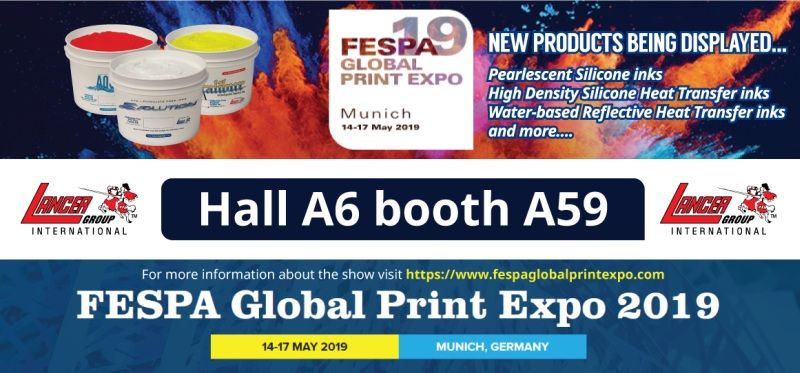 7th annual WORKSHOP 9 - 10 March 2018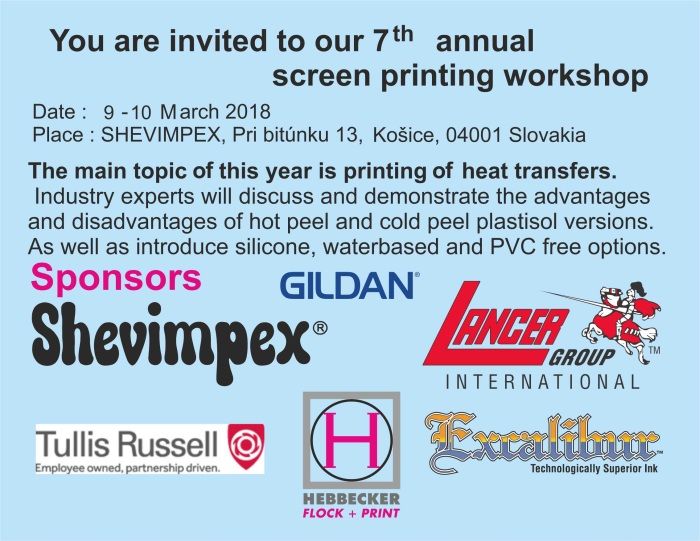 FESPA Hamburg 8. – 12. 5. 2017
We would likte to invite you to vist the stand of LANCER GROUP at FESPA Hamburg on 8.-12.5.2017 Hall: B6, Stand: D106
The company LANCER GROUP is going to present a new STI System of  silicon inks. We are looking forward to meet you in Hamburg.
SHEVIMPEX Team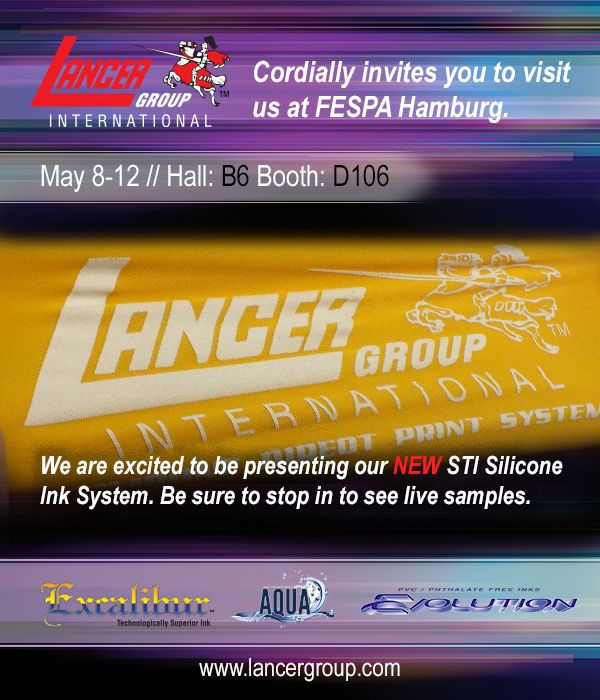 WORKSHOP 6 Košice 3. – 4. 3. 2017